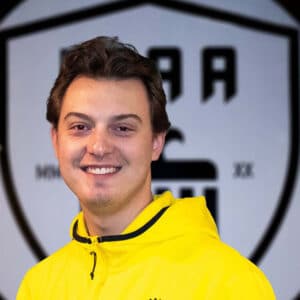 Ethan Hunt
Founder, Executive Director, Boys Head Coach
Masters in Sport Management, Johan Cruyff Institute & the Autonomous University of Barcelona; BA Sport Management, Bethel University, cum laude.
Director Hunt has obtained his National Coaching Diploma from United Soccer Coaches, has completed Sports Management Worldwide's "Soccer Management and Scouting" & "Soccer Analytics" courses, and is CPR certified. Ethan was Bethel University's Kinesiology Student of the Year in 2017-18, Bethel University's Servant-Leader of the Year in 2018-19, and coached the #1 ranked high school team in the nation in the fall of 2019.
Director Hunt has known for a long time that the American soccer system is not properly aligned with the rest of the world, and he has made it his goal to fix it. His vision for the ISAA came from knowing that student athletes and parents were finding a difficult time balancing the importance of both school and soccer.
Ethan opted toward another option, the European/South American model, where students go to school and play club soccer under the same umbrella. This allows students and parents more flexibility, less commutes, better team chemistry, and most importantly more successful young women and men. So for his Masters degree thesis, Ethan wrote a 100-page business plan with proof of how it would work, how it would be financially viable, and most importantly how student-athletes would benefit from this proposed model. Presenting it to faculty of the Johan Cruyff Institute and the Autonomous University of Barcelona, Ethan successfully defended his thesis in front of the best minds in sport management in the world. Now, he is turning his dream of a soccer-only private school into a reality.